Less than 1 year old on Allbiz
Technical characteristics
Country of manufacture

Russia
Description
The operating voltage of the mains is 380V, the current frequency is 50Hz.
Climatic version U. Ambient temperature from - 40 ° С to + 40 ° С.
The winch is not designed to lift people!
Appointment
The U5120.60 winch is designed to perform lifting and transport operations during construction, installation and other works, as well as to complete jib cranes, construction hoists and other lifting devices. The winch is controlled by a push - button control station.
The winch is designed to operate under the following conditions:
environment - non - explosive;
temperature from - 40 o C to + 40 o C;
working position - mounting on a horizontal platform;
mode of operation - easy.
During installation, the winch must be securely secured to the jobsite and grounded. Do not weld the winch with the supporting surface!
The mass of the load to be lifted must not exceed the rated lifting capacity of the winch. The rope must be securely fastened. When the rope is completely unwound, no more than two turns of the rope should remain on the drum.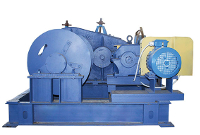 Contact the seller
Winches U5120.60 series