Less than 1 year old on Allbiz
Technical characteristics
Country of manufacture

Russia
Description
Check with the manager for the complete set of the winch with a rope.
Working voltage 380V, current frequency 50 Hz.
Climatic version - U2.
Ambient temperature from - 40 ° С to + 40 ° С.
The winches are not designed to lift people!
Appointment
The assembly winch is one of the simplest, most affordable and reliable types of devices (electric winches). All types and models of assembly winches are designed for handling operations during construction, assembly and other works, as well as for completing construction lifting devices, as well as for completing various lifting devices.
The winch is designed to operate under the following conditions:
The environment is not explosive.
Ambient temperature from - 40 o C to + 40 o C.
Working position - mounting on a horizontal platform.
Execution of winches when delivered to regions with a temperate climate - U2, with a tropical climate - T2.
The operating mode is easy.
Working voltage 380V, current frequency 50 Hz.
The assembly winch consists of a solid support frame on which the power plant and all units of the unit are installed. The working body of the winch is a drum used for winding the rope. A drum of a welded structure is mounted on a low - speed shaft of the gearbox on one side and on a support through a bearing on the other. The torque is transmitted to it from the electric motor through the bush - finger coupling and the gearbox. The Ts2U type gearbox is designed to increase the torque and decrease the speed.
During installation, the winch must be securely secured to the jobsite and grounded. Do not weld the winch with the supporting surface! The mass of the load to be lifted must not exceed the rated lifting capacity of the winch. The rope must be securely fastened. When the rope is completely unwound, no more than two turns of the rope should remain on the drum. Persons who have undergone appropriate training and instruction are allowed to operate the winch.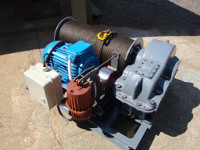 Contact the seller
LM series winches