Less than 1 year old on Allbiz
Technical characteristics
Country of manufacture

Russia
Description
Energy source:
- single - phase (220V) current frequency 50 Hz (winches with index E)
- three - phase (380V) current frequency 50 Hz (winches with index E1)
Ambient temperature from - 20 ° С to + 40 ° С.
The winches are not designed to lift people!
Appointment
KDJ series winches are designed for lifting and moving loads on construction sites, production, service enterprises and in everyday life.
The winches are assembled according to the "Engine + Drum - reducer" scheme, which provides high performance with low energy consumption. The drum - reducer is assembled on the basis of a planetary gear train made of high - carbon steel, heat - treated in a cast iron body. The drum is made of carbon steel or stainless steel and has high wear resistance. The drum - reducer is driven from the motor by means of a shaft through a coupling, which ensures smooth running under load.
The winch motor is equipped with a built - in brake, which is activated when the voltage supply to the motor windings is cut off. The winch is also equipped with an automatic top stop that stops the winch when the cable is wound to its limit.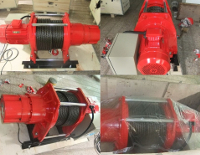 Contact the seller
KDJ series winches