Less than 1 year old on Allbiz
Technical characteristics
Country of manufacture

Russia
Description
Working voltage 380V, current frequency 50Hz;
Ambient temperature - 20 o C to + 40 o C.
It is forbidden to use this equipment for pulling, lifting, transporting people.
Appointment
The electric winch EWH is designed to provide lifting and transport operations during construction, installation and other works, as well as to complete lifting devices.
EWH series winches offer high performance, efficiency and safety, and offer many advantages:
compact, practical design allows the equipment to be used for lifting and pulling loads.

gear transmission with helical gear in first gear provides a soft start.

a brake disc (with a spring) built into the motor allows the load to be held even in the event of a power outage.
Designed to work in the following conditions:
environment - non - explosive;

working position - fastening on a horizontal or vertical platform using anchor bolts under a canopy;

execution of winches for regions with a temperate climate - U2;

operating mode - easy;

operating voltage 380V current frequency 50Hz;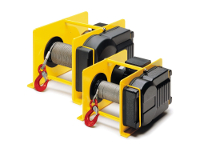 Contact the seller
EWH series winches